Rubber Trails
Rubberway's Rubber Trails enhance the walkability of cities and urban areas, encouraging people to get outside and be healthy. Revive an old park, create a meandering path, or give your employees an environmentally friendly, ergonomic surface to stroll and jog on. Numerous Rubberway systems can be customized to varying levels of thickness, porosity, and resilience for the ideal outdoor trail.
Rubber trails are resilient, non-slip, and easy on the joints yet firm enough to be suitable for strollers, wheelchairs, skateboards, bicycles, and roller-blades. Rubberway's rubber trails have been installed across the U.S. as walking and jogging paths in parks and as training tracks for schools and federal facilities.
Our rubber trails are designed to offer pedestrians and joggers a low-impact, good traction, firm but resilient surface. The poured in place, seamless system provides a safe and attractive option for paths that beautify parks and recreation centers, schools, and public facilities.
Rubber Trail Options
Single Layer Rubber Trails
Rubberway's Pervious Pavement system is popular for rubber trails as it is easy to install and replicates asphalt. This single layer system is made from 100% post-consumer recycled rubber from tires in a large crumb format which creates a very porous surface allowing for rapid rainwater dispersion and quick drying. By allowing rainwater to penetrate through the surface, the run-off is greatly reduced and the water is allowed to disperse throughout the subsoil and provide needed sustenance for trees and shrubs.
For a more durable rubber trail to accommodate light vehicular traffic, Rubberway's Rubberrock system is recommended. This system incorporates a stone aggregate with the recycled rubber granules and utilizes a special binder which results in a firmer, more durable surface. This system has been installed for gold cart paths and for other applications where a look more similar to stone is desired.
Dual Layer Rubber Trails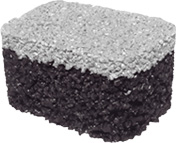 Dual layer rubber trails are composed of a base layer made from 100% post-consumer recycled rubber from tires that are free of lead and heavy metals, topped with a 1/2" wear (top) layer of virgin rubber that is colored throughout. This solid color wear layer ensures a long-lasting, colorfast surface that won't wear off over time.
This dual layer rubber trail system allows for more color options and customization in design. It also utilizes a smaller rubber granule size than the single layer system resulting in a look more similar to concrete.
Rubberway Bound Rubber Mulch is a great option for trails and walking paths with a natural look. Our rubber mulch is made from 100% recycled tires which are pigmented and bound together with our proprietary binder for a long-lasting, durable system. This rubber trail and pathway system is perfect for city parks, nature centers, and any area where an ergonomic, natural looking, safe, and comfortable, non-slip surface is desired. Rubberway Bound Rubber Mulch is available in a number of attractive colors.